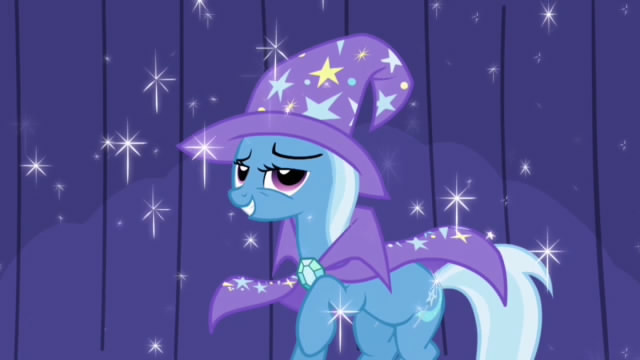 Canon Name:
THE GREAT AND POWERFUL TRIXIE
Furcaida Name:
Trixie Lulamoon
Why do you want this character?:
Explain to us why you are choosing this character. 3-5 line preferred.
Well, Trixie seems rather fun, and how she speaks reminds me a of mixture of Nightmare Moon and THE ROYAL CANTERLOT VOICE! And who wouldn't want to be THE GREAT AND POWERFUL TRIXIE?
How often are you online?:
Being a canon can be a lot of responsibility. In many ways it's like being staff.
Since most holidays are over, I should be on nearly every single day, more often at night an early mornings.
Personality:
Show us your knowledge of the character.
She is quite the boaster, often saying she is the best in all of Equestria and making up over-dramatic lies, such as defeating an Ursa Major. After being run out of town by Twilight Sparkle, Trixie becomes revengeful, stealing an all powerful amulet and running the purple unicorn out of town. After being defeated by Twilight, again, and having the Alicorn Amulet removed, Trixie seems to have a better disposition and actually apologizes! She also does not trust wheels.
Sample Post:
This better be your best work, as it's the most important part of the application.
Trixie walked slowly into Ponyville, her cape waving in the wind, her hat set smoothly on top of her head, covering her horn. She stared out at the night sky as she went, toting her carriage behind her. She walked to the middle of Ponyville, and then let go of her carriage, letting it open, the stage popping out. She would then jump onto the stage and let fireworks flare. "THE GREAT AND POWERFUL TRIXIE IS BACK!!"
Twilight Sparkle bursted from her Library and walked up to Trixie's stage. "What are
you
doing back here?" She would ask, not too thrilled to see the annoying, boasting unicorn again. "I thought you promised not to come here ever again?" She snorted a little, looking around as everypony else in Ponyville started to wake up and look outside.
Trixie calmed down the fireworks and walked up towards Twilight. "Now now, Twilight Sparkle. Do not fear! The Great and Powerful Trixie has mended her ways and is now just a humble, traveling showpony." Trixie posed again and set off fireworks and spun pinwheels. Though she was showing off again, she tried not to seem like a threat to anypony. "The Great and Powerful Trixie promises to behave!" Trixie would then bat her eyes to the purple unicorn, as if feigning innocence that no one believed she had.